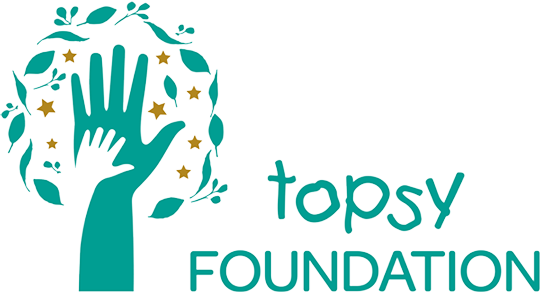 Support our projects and initiatives by making a donation below


Who we are
The foundations
of Topsy
The Topsy Foundation was established in 2000 with seed funding from the Rufford Foundation and pro bono administrative support from Ogilvy. The Foundation is a fully registered and internationally respected non-profit company and public benefit organisation.
Topsy opened its doors in 2001, providing care to communities in some of the most underserviced rural areas of Mpumalanga and is the only NGO in the region. In the past 18 years, Topsy has made a significant impact on these communities, addressing HIV/Aids and extreme poverty through an effective, multi-faceted approach.
Topsy's current mission is to provide communities with the support and tools needed to raise happy, healthy and capable children. The Foundation established its Early Childhood Development programme in 2014, which focuses on five key pillars: stimulation and early learning, psycho-social support, nutritional education and support, health screening and monitoring, and caregiver and parental skills. The first certification ceremony for ECD practitioners was held in 2015.
What we do
Family and community
at the heart
Topsy supports Early Childhood Development in Mpumalanga's rural communities through a number of key child-centred approaches. Our aim also is to strengthen families and communities: their involvement creates a sense of ownership that supports long-term sustainability.
Total support in the
critical early years
Early
Learning
Nutritional
Support
Parental
Skills
Health
Screenings
Psycho-social
support
Our Five Pillars
Our Early Childhood Development model looks at the child's development in its entirety: stimulation and early learning, psycho-social support and services, access to sustainable sources of nutritious food, regular health screenings, and skills development for Early Childhood Development practitioners, parents and primary caregivers.
Learn and Thrive
We provide access to quality, age-appropriate early learning through Early Childhood Development centres and our Play and Learn centre. This helps improve children's capacity to learn and thrive in their school-going years.
Feel Happy and Safe
We assist with birth registrations, access to child support grants and child protection. This serves to improve the emotional wellbeing and safety of children.
Eat Nutritious Food
We provide training on healthy foods and help establish vegetable gardens for individuals and communities.
Be Healthy and Grow
We facilitate medical and health services such as growth monitoring, hearing and vision screening, treatment for minor illnesses and referrals for specialised care. We also have an on-site pharmacy and x-ray facilities.
Nurture and Support
We provide education and psycho-social support to parents and caregivers.
01
Unlocking potential through

Early Childhood Development
02
Breaking the cycle of poverty through

child development, nutritional support health monitoring and skills training
03
Training and support

for parents and caregivers